Focus on your own self
"Quiet in my soul, quiet outside. To relearn to take a breath, that's it." (Christian Morgenstern)
Find your own peace – we strive for it. But it's not easy to keep and maintain one's equilibrium in our fast-moving time. It is necessary to discover one's right balance between too much and too little, between exertion and letting things go.
On vacation, it would seem to be thing to do: slow down, take time for yourself, cut out. This is best achieved in the middle of the nature: listen to the humming of the bees, the birds singing, the rustling of the leaf in the wind or perceive only silence. So marvellous nature warms the heart, stimulates relaxation and reflecting on the things in life that really matter.
Discover rejuvenating spots in the natural landscape of South Tyrol and learn to re-focus on what is essential, to ground themselves and to enjoy the moment with mindfulness.
We would like to invite you cordially on our Bruggnhof: to confidently go for the best feeling, slow down and relax at special retreats on your mini break with our
Sounds-offer from 18.04.2020 until 16.05.2020 and from 10.10.2020 until 14.11.2020
Euro 660,00.- for 2 persons in the apartment Apple
Euro 709,00.- for 2 persons in the attic flat Cherry
Euro 639,00.- for 2 persons in the apartment Grape
The offer includes
7 nights for 2 persons in one of our spacious, tastefully furnished holiday apartment. Start the day on a casual note: with our balance-snack or our balance-soft drink.
Inclusive services of the Bruggnhof
Immerse yourself in relaxation and ease – let your mind wander and leave the world behind with harmonious sounds:

Sound Meditation (April/May), alternately at our Bruggnhof Pool or on a place in the woods on a evening: You will explore your individual power sources and relax accompanied by spoken meditation, singing bowls, koshi, cymbals, sansula, hapi-drum and others. Duration: 1,25h OR
one SOUND MASSAGE (October/November) individually, by arrangement: come back in harmony with himself and relax deeply with singing bowls placed on the dressed body
Additional informations:
This offer is valid if you book it with the apartment.
The offer does not include the stay-tax of the community (up to 14 years).
There can stay more than 2 persons in the apartment for an extra charge. Please contact us.
---
---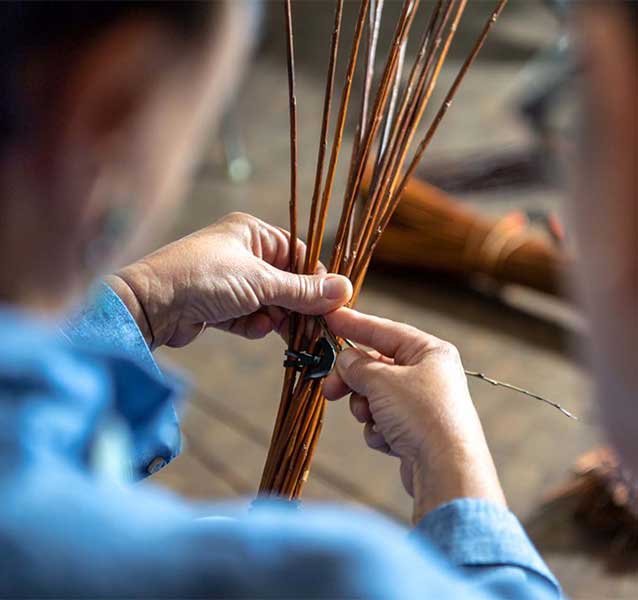 Be centred while living a special event in Kaltern
There are available also other events for a well-balanced stay with all senses at Kaltern or surroundings in the spring.
How about, for example, a meditative wicker-weaving as a recipe of inner peace?
You can book this special event in Kaltern directly with us. In this case, please contact us personally.