Safe vacation in period of Covid-19

We look forward to welcome you in our farm!

We reopened our doors. So we look forward to welcome you with genuine hospitality. Our surrounding restaurants will spoil you again with Alpine-Mediterranean delicacies and a good glass of South-Tyrolean wine. Our cable cars will bring you to the most beautiful peaks. And you will find space in our generous nature. Your very own personal space to take a deep breath and enjoy the newly acquired freedom.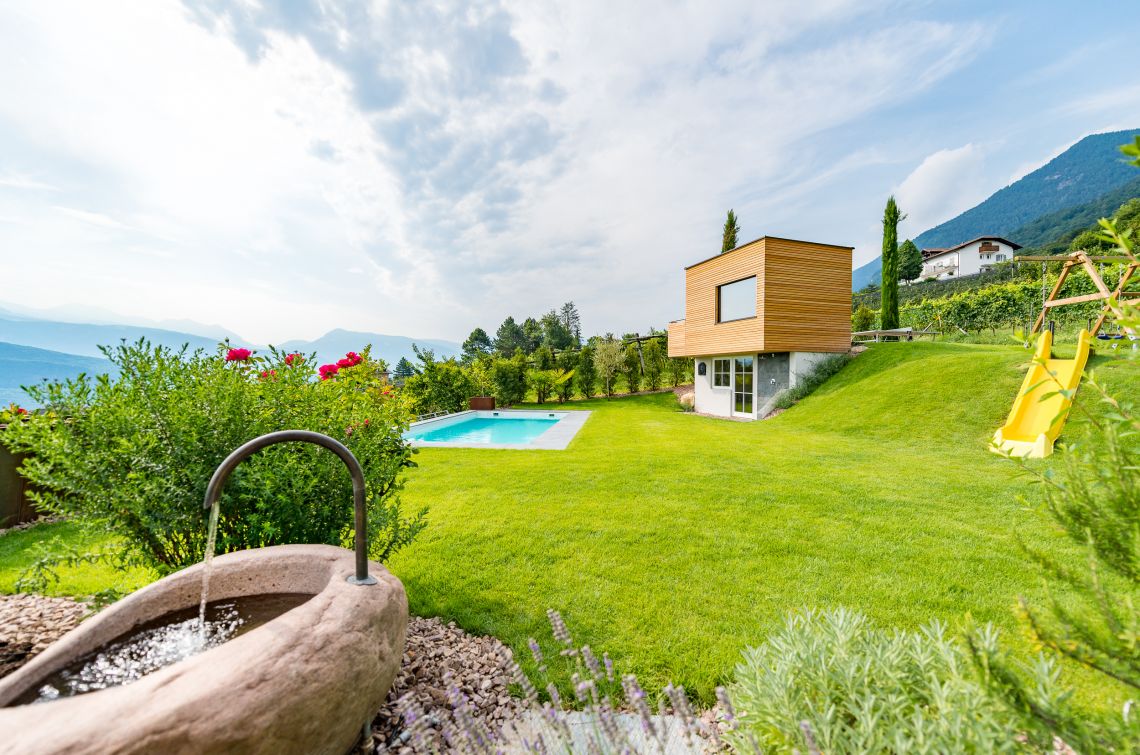 To go on safe holiday
With own security measures, we strive to offer you a safe holiday experience, because the safety of our guests is very important to us. So that you feel even more comfortable during your stay in our house, we will create space for you: As carefree as possible, as safe as necessary!
Your personal freedom:
In the nature right on our doorstep you will find space enough: meadows, forests, fields, mountains, valleys. Fresh air! So you can tank up your energy and refuel your power.
In our accommodation, too, we guarantee you the space you need. Due to the small structure of our farm with only 3 apartments, the number of guests is limited and yet there are some retreats on the farm, where you can enjoy peace and freedom in the midst of nature.
Enjoy carefree:
There is no mask requirement for families and people staying in the same holiday apartment.
Would you like to enjoy breakfast on our farm? Our breakfast baskets are ideal for this. We can easily place the basket in front of your door.
Safe relax at the Bruggnhof:
POOL: Our outdoor pool is available for your relaxation from May. We will check it regularly and since last year even more thoroughly with regard to water values. The following applies to use: There must be a distance of 2 metres between people. This does not apply to members living together in the same household or holiday home. If people move or the minimum distance cannot be maintained, respiratory protection must be used. No respiratory protection need be used in the water, but the minimum distance of 2 metres must be maintained. We recommend that only the guests of one apartment go to the swimming pool at the same time.
SAUNA: may only be used on reservation, and only individually or simultaneously by people from the same household or the same holiday apartment. The sauna is cleaned by us after each use, and the presence of the people must be documented by us.
BOOKS and PLAYING GAMES IN THE COMMON ROOM: Hands must be disinfected before and after reading books or newspapers left for guests or playing games.
If we can holding our weekly GUEST EVENING this season depends on the development of the situation in the next few weeks - but don't worry, in case we have another surprise for you.
For the safety of all of us - cleaning and care at a high level:
Since we have been welcoming guests to our Bruggnhof, cleanliness in the apartments and around the courtyard has been very important to us. In these times, we strive to ventilate the holiday apartments more thoroughly with every guest change, to clean them and this year to disinfect them more, as well as floors, furniture, cutlery, crockery, glasses and surfaces. We carry out cleaning and disinfection with the appropriate means, whereby "critical surfaces" such as doors, door handles, table surfaces, etc. are disinfected at short intervals. But that wasn't enough for us. We have informed ourselves and inquired and are convinced that we have found something with which we can safely say: "Dear guests, you can feel comfortable with it!" With us, the "Swiss Desinfect Professional" is used with every guest change - for thorough surface hygiene and thorough room disinfection.
For a carefree stay, your holiday apartments and the lounge are also equipped with disinfection devices.
The wearing of a face mask is generally mandatory. In open-air situations, a distance of two metres must be maintained between persons not living in the same household. If this distance is not possible, the nose and mouth must be covered.
Outdoor activities can be pursued, provided the minimum two-metres distance is maintained. If this distance cannot be maintained, the mouth and nose must be covered. This rule does not apply to people who live in the same household.
Indoors, face masks and a one-metre distance to others are mandatory. It is recommended that you wash your hands and use hand sanitiser regularly.
Access will be restricted to a certain number of guests to avoid overcrowding.
Free movement is permitted across the entire state territory.
Accomodation providers, Shops, bars and restaurants as well as cable cars, that can adhere to the safety measures are already open.
Public transport has resumed its regular service, no access restrictions apply. Compliance with safety measures is mandatory. Current bus and rail schedules are available at www.suedtirolmobil.info
Extraordinary times - extraordinary conditions and flexible down to the last detail:
For booked holidays we will arrange a date at a later time. Then you can decide whether the booking is confirmed or canceled.
Well-informed on holiday:
Stay well-informed! https://www.suedtirol.info/en/information/coronavirus
See you soon at Kaltern am See!
Your family Pillon
---