inter
"Without the cold and desolation of winter, there could not be the warmth and splendour of spring." (Ho Chi Minh)
The most intensive months are about to end, quietness fills the farm and the surroundings. For us, there is however also plenty to do in winter: The vines and fruit trees have to be cut so they can grow healthily and profitably in spring.
However the nature surrounding the Bruggnwirt is in hibernation mode, and enchants you with its special winter flair.
Treat yourself to a winter break far away from stress and hectic. Enjoy the peaceful winter time and switch off from everyday routine.
Cosy blankets in the heated apartment provide a homely feeling, and a freshly prepared herbal tea is ideal for warming up from inside.
The surroundings and nature invite you to enjoy the special winter offers:
S'Kalterer Christkindl, a small Christmas market on market square in Kaltern awaits you for your visit during Advent. Look forward to mulled wine, tasty delights or unique ideas for a Christmas gift.
Visit the biggest Christmas markets in the region: The Christmas market in Bozen can be easily reached by bus from the Bruggnhof. The Christmas markets in Meran, Brixen, Lana, Sarnthein, Klausen or Karersee are also only about a 35 to 45 minute drive by car, train or bus.
Ice skating on the ice-skating rink in Kaltern or even on Lake Kaltern during cold winters when the lake is frozen - a truly magical feeling.
With the sledge up to Mendel and sledging down the hiking path or the natural toboggan runs in the surrounding winter ski resorts.
Winter walk to Mendel: When Mother Hulda surprises us with the first snowflakes, the Mendel turns into a fairytale forest: Experience this enchanting feeling of walking through a white glittering forest and listening to the quiet nature.
Discover the unspoiled natureduring a ski tour or snow-shoe hike on the Mendel or nearby mountain summits.
Warm up in the pools and saunas in the adventure pools in Naturns, in the Thermal Baths in Meran or at Acquarena Brixen.
Skiers, snowboarders, cross-country ski fans find slopes, snowparks and cross-country tracks of all levels of difficulty in the nearby ski resorts, which can be reached from Bruggnhof in about a 45 to 55 minute drive.
Ulten (about 51 km)
Meran 2000 (about 43 km)
Alpecermis (about 36 km)
---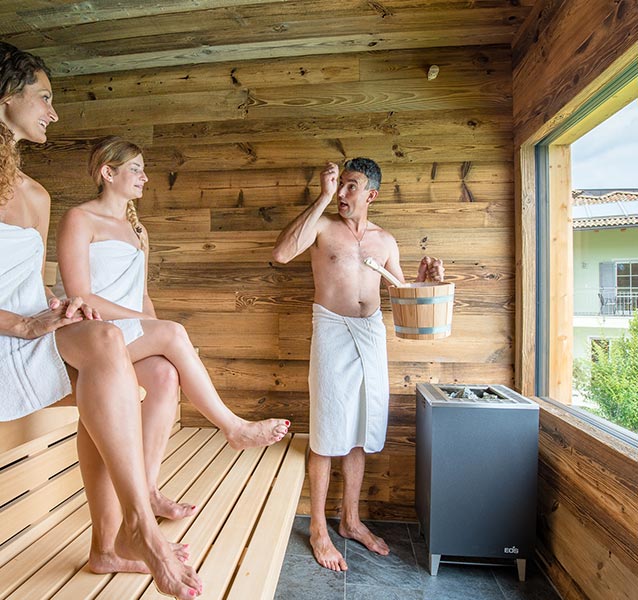 We have THESE winter specials for you:
After an intensive, cold winter's day
Relax in the panorama sauna, during a sound massage or reflect on the day gone by with a good glass of wine.
Once a week: Tasty cakes in the common room in the afternoon
Once a week: Handicrafts for children with Kathrin
Free hire of snow-shoes and hiking poles
Bruggnhof breakfast basket for the perfect start to the day: Upon request we offer a tasty breakfast basket with delicious products from November to March.
---
Bruggnhof
Fam. Martin & Kathrin Pillon
St. Anton 59b
I-39052 Kaltern