House & farm
Enjoy the peace and quiet, unwind, make yourself at home in family comfort, cordiality and hospitality
That is what we mean by paradise! And there is a lot more....
The great location, the sunbathing lawn, the outdoor pool, the sauna, the animals, the herb garden, the fruit farm, fruit and vegetables of the season, home-made farm products from our farm shop, our own wines, which can be tasted in the on-site wine cellar... the Bruggnhof fruit and wine farm provides not only a place of relaxation, but also special experiences and pleasure moments.
Therefore, in and around the Bruggnhof you will also find:
Barbecue facilities
Table tennis
Children's playground
Equipment for babies and toddlers (cot, high chair)
Common room with farm shop and library with magazines and books
Fresh breakfast eggs
Bread roll service
Free Wi-Fi
Car park
Lockable storage room for cycles and motor cycles
---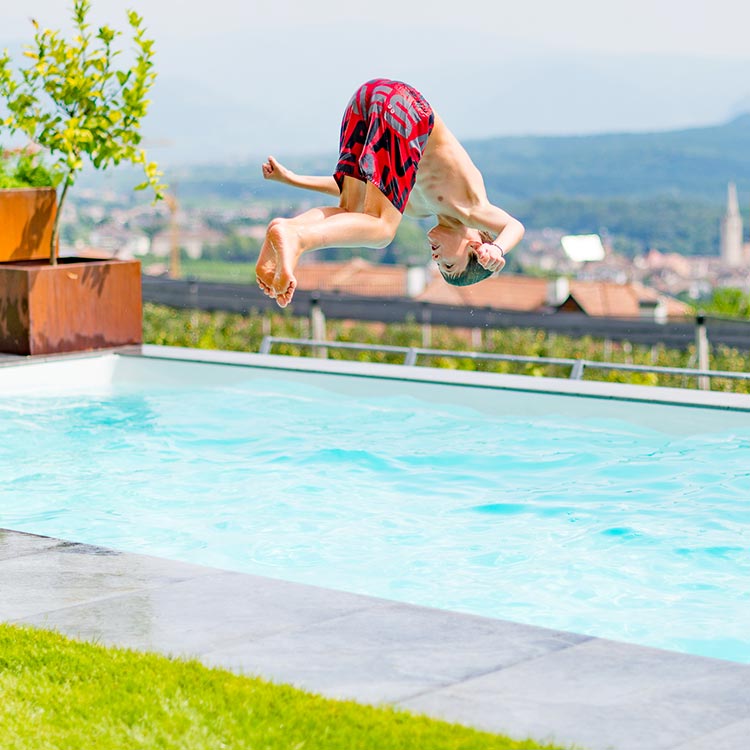 A Holiday Paradise - adventure for the kids, holiday for the parents
Everyone's individual ideas of a dream holiday come together in harmony in South Tyrol. Our Bruggnhof offers lots of space for your children and gives them a wealth of opportunities every day really to let off steam. We have a great playground with a swing, a slide, table tennis, boules and a sandpit with lots of playthings. Playing in the garden lets them benefit from the fresh air and experience nature with all their senses - their imagination will know no bounds.
Our farm animals are also a great attraction. Our chicken, rabbits and guinea pigs love to be admired by our guests and make everyday life on the farm very lively.
---
And what about the adults?
At last, you, the parents will have time for yourselves, to be able to inhale the wonderful air. You can enjoy the sun in peace and quiet on the balcony or on the lawn in natural surroundings and simply relax.
---
Bruggnhof
Fam. Martin & Kathrin Pillon
St. Anton 59b
I-39052 Kaltern